Product reviews from the end customers have taken the transparency of eCommerce to another level. These days product reviews have become the primary word-of-mouth for a brand's business reputation.
Due to the easy accessibility of online reviews, they make an incredible impact on a business. These qualitative feedbacks tend to be most useful when customers evaluate the products on an eCommerce platform.
Product reviews on various social platforms sow the seeds of trust in customers, impacting their decision to purchase. A progressive review system encourages this trust-building, validates your brand, and assures new visitors to your store.
Let's have a look at how important these product reviews are for an eCommerce brand.
Why are product reviews important in eCommerce?
Here are some statistics to start with:
63% of customers make a purchase from a site if it includes their user reviews.

88% of online shoppers include reviews as a primary aspect in their purchase decision.

70% of customers turn to reviews or ratings before making a purchase.
– To build trust
Trust is the primary factor that is influenced by the product reviews, before making purchase customers will ensure that they are investing in a good shopping experience.
Giving an example of Amazon, they display the average rating for products based on customers' feedback at the top of the product page and customer's reviews at the bottom.
So, whenever a customer visits the product page, the product ratings and reviews should be clearly visible along with the number of people who rated that product. This really helps customers to build trust in you and your products.
– To provide better insights into the product
Product reviews are helpful in gathering real information from genuine customers and their experience with the product, like whether the product was up to their expectations or not.
No matter how much you try but can never match the impact of people's real-life experiences with the product.
So with product reviews, customers are helping each other to understand the product better.
– Allow you to rectify the issues with the product
It's simply not possible to satisfy everybody with your product, some customers will genuinely share their problems hoping that you will improve the product.
Know what customers want from your product?
If the majority of customers are pointing at the same thing, then take it as an opportunity to improve your product as well as customers' experience.
– Establish a social proof
If used wisely product reviews can do wonders for your brands' marketing and product promotion.
Show them off on various platforms, and promote them for better visibility. Highlight what your customers say about your brand, product, and services.
Displaying testimonials on websites and social media handles is the best way to promote your brand, mark an impression on visitors' minds, and attract more and more potential customers. 
– To boost Conversions
If your customers like using your product and had a great experience, then their reviews are a great help for you to boost conversions. 
Your customers are openly marketing for you by posting positive reviews and feedback about your product and services.
– Reduce possibilities of product return
When visitors read the experiences of your existing customers, the trust is built over the product's quality and they feel confident to purchase it, without giving any further thought.
Thereby, to reduce chances of return as the customer has placed its order after a full inspection of the product, and is greatly satisfied.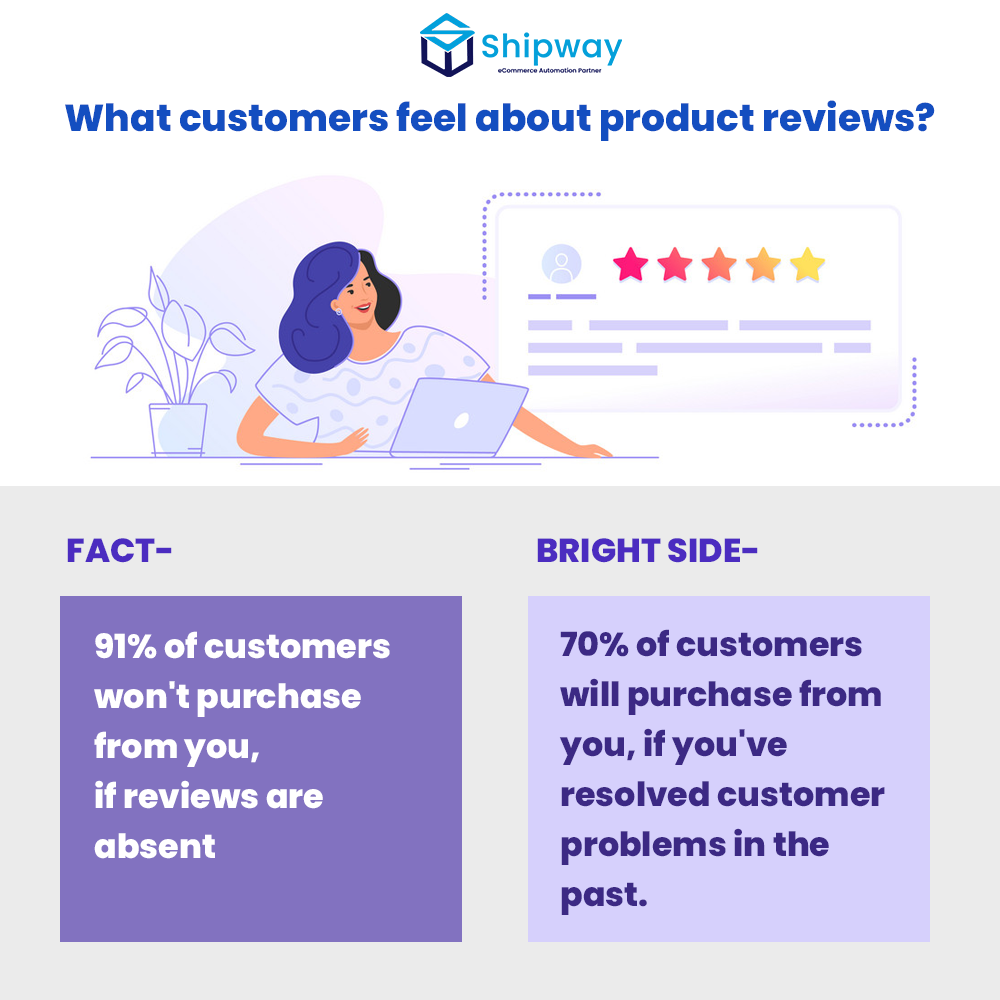 How to obtain more and more product reviews?
Brand reputation plays an important role in influencing new customers. Product reviews and feedback are one of the post-purchase experiences you cannot neglect.
More product reviews on your site mean more and long-term exposure for your brand.
There exist many simple and affordable ways by which you can attract customers to say a word about your product, service, experience, in front of the world.
– Ask customers directly for a product review
The best way you can get a product review is by asking it directly from your customers.
The customers don't shy off from writing a review or giving their feedback for a product, it's just that they forget about it most of the time.
About a week after their order has arrived, send them an onsite request or a follow-up mail, reminding them of a product review or about sharing their experience with the product.
– Offer a chance to win in exchange for their feedback
You can never fail if you offer your customers the possibility of winning something (offering them a chance to win). You can use this to encourage them for a product review.
Here is the list of some popular giveaways that are followed by the leading brands, such as:
Store gift certificates

Unique accessories (designed especially for your store giveaways)

Popular products of your store 

Gift cards/discount coupons for fine-dinning or coffee-chains
– Reviews accompanied by pictures and video
In the trend of raising followers on social media handles, people love to share every detail of their routine through social media posts (images, videos, short stories, reels, Snapchat stories, etc.).
You can encourage your customers to share their experience of using your product along with their pictures/videos on their social media handles. You can use them to promote your branding and other promotions.
Conclusion
Customer is God and the sellers should take care of what they desire. 
Their feedback is extremely important as their experience will only let you track and measure how good your product is.
Product reviews act the same way as customers check for products' quality in the brick-and-mortar store physically, as there is no other choice with online shopping.
Negative reviews are not part of shame, they make your good reviews look even better. Let your customers give their honest opinion about your brand and products.