Loyal customers are the key to a profitable business. It is always harder to hold your existing customer than to convert the new ones.
Converting new customers is 6-7 times harder and more expensive than retaining the existing ones.
Building good post-purchase communication is an effective solution to revive your customer retention strategy.
According to a survey, 60% of the consumers ask for post-purchase communication from the brands' side.
Today we'll discuss some ways to improve your post-purchase communication that will increase your customer retention rate.
Let's get started…..
What is Post-purchase Communication?
Starting from the bottom, post-purchase communication is the interaction that you do with your customers as a brand after they make a purchase. Post-purchase communication is mostly conducted virtually via calls, messages, or mails.
These post-purchase communications are built to influence the customers about the product they have purchased.
Approx. 46% of the business priority is given to customer experience (post-purchase experience), other than pricing and product. So, it is a crucial aspect to deal with.
How to influence customers with post-purchase communication?
Post-purchase communication is very important for you as a D2C brand to build post-purchase communication with your customers as it can improve your customer retention percentage.
Building a virtual relationship with your customers is a cost-effective method to increase your sales and gain customers' trust and loyalty forever.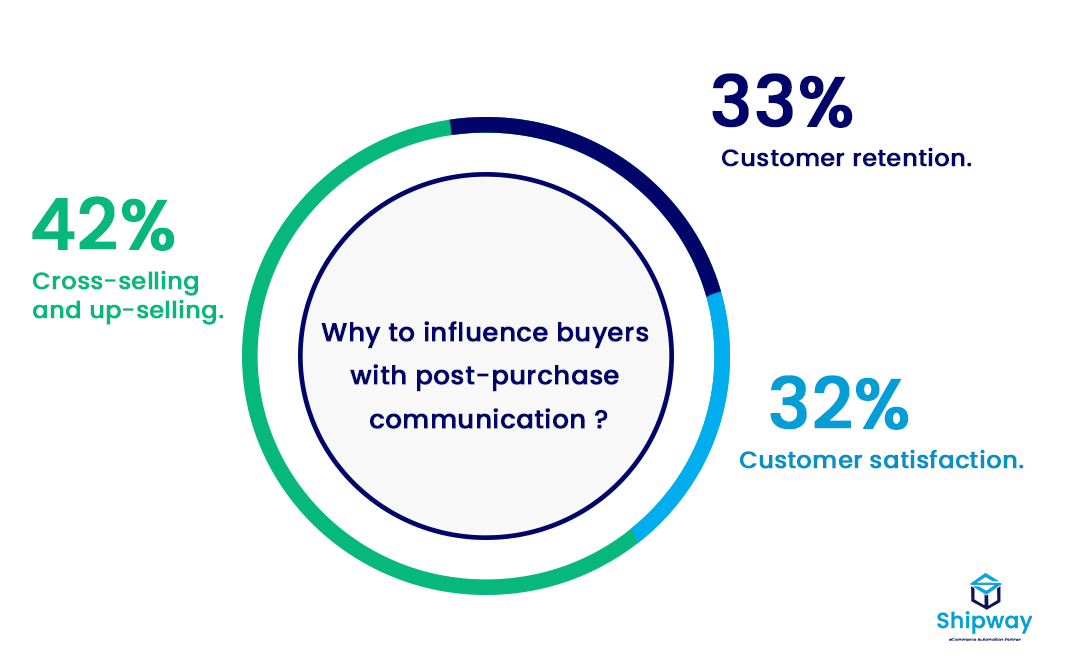 You can engage your customers through emails, notifications, feedback, etc. after they make a purchase from your site.
You can create a content strategy for sending emails to your customers, they can either be for marketing or relevant to the customer and their purchase.
Emails are used as an upsell strategy, considering making the customers' post-purchase experience easy.
Direct mails are also a good way for cross-selling, upselling, validation of purchase orders. These physical mails include brochures, coupons, information for recently purchased items. Thank you notes are also sent through direct mails to ensure your promise to them.
Sending post-purchase notifications is again a good way to engage your customers till their package reaches them. It helps you to build a trustworthy relationship with your customers.
The information of the purchased product is delivered to the customers regarding their shipment and date of arrival. So that the customers would also be aware of the whereabouts of their order (when it is shipped, when it is arriving, etc.)
Asking customers for Feedback
Customers' point-of-view about the product, it's packaging, shipping, branding, etc. is important as their opinion (communicated through social platforms) can influence many other customers as well.
Their opinion can provide you actionable insights to work on your operational, marketing, and sales strategy.
Loyalty programs or rewards programs have a successful rate to influence customers to increase customer retention and purchase frequency.
Referrals, free gifts, exclusive discounts, early product releases are some of the offers you can give to your customers in a loyalty program.
85% of the customers are likely to purchase from the seller/brand again if they give a loyalty program.
High-end Customer Support
Post-purchase communication is done to build a relationship with your customer or to interact with them. It is done to provide convenience to customers regarding their purchase products.
In this journey, they shall receive high-end customer support whenever required. The customer support team not only speaks to the customers but also showcases your brand identity.
Therefore, it becomes important to deliver high-end customer support to boost up brand experience with your customers.
Give your customers a personalized experience for their future purchases as well. You can mail them suggesting a few products according to their wish-list, or previously purchased items to boost up your sales.
A personalized experience is a great way to charge up your customers, that you care about, give special offers exclusively for them (on their birthday, anniversary, etc.).
Discounts and offers are the big going things in the eCommerce market nowadays. Every seller is providing special offers to their customers now and then to increase their sales.
This is a good strategy to influence people and grab attention through discounts and offers especially in the festive/holiday season. More than 64% of the online customers wait for the sale to purchase their favorite items.
Other communication ways to improve the post-purchase experience
Delivering a good post-purchase experience to your customers provides you an increase in your purchase volume and trusted customers. The post-purchase experience delivers a strong brand experience and ensures your customer's satisfaction, confidence, and reassurance.
Have a look at some ways that can improve the post-purchase experience for your brand.
Timely Delivery Notifications
Delivery notifications for the purchased product are important for your customers. Allow your customers to know about all the stages of their package through notifications via SMS, WhatsApp, or email.
This ensures your customers that you are also concerned about the on-time delivery of their order.
Notifications are a good way to get a hold of the customer's excitement and keep them informed about their order delivery, improving customer satisfaction.
Shipway delivers the optimum post-purchase experience for your customers providing better engagement to increase your customer loyalty. You can update your buyers with the pro-active tracking details through WhatsApp as well, apart from email and SMS.
Clear refund and return policy have an assured rate of increase in sales volume.
According to the research, it is clear that 92% of online customers tend to purchase again if there are easy returns available.
Whereas 67% of online shoppers check for the returns page before completing the purchase.
Almost 70% of online shoppers trust to purchase when they read satisfactory reviews about the product.
Brand reputation plays an influential role in the eCommerce business. It influences customers' trust and boosts recommendations, increasing your sales with the free advertisement of positive reviews.
Asking your customers for a product review will not only give you an advantage in sales but will increase your brand reputation as well.
You can collect reviews with pictures from your customers with Loox, this will strengthen your brand reputation and increase your sales with social proof.
Out-of-stock products might take away many of your potential customers. As a D2C brand, try to keep enough stock and add a notification button to your online store for customers' assistance to inform them whenever the products are back in stock.
Notifying your customers about the restocking of products can help to acquire more sales.
Back in Stock provides automated email alerts to your customer's when you restock products.
Why is post-purchase communication essential for customers?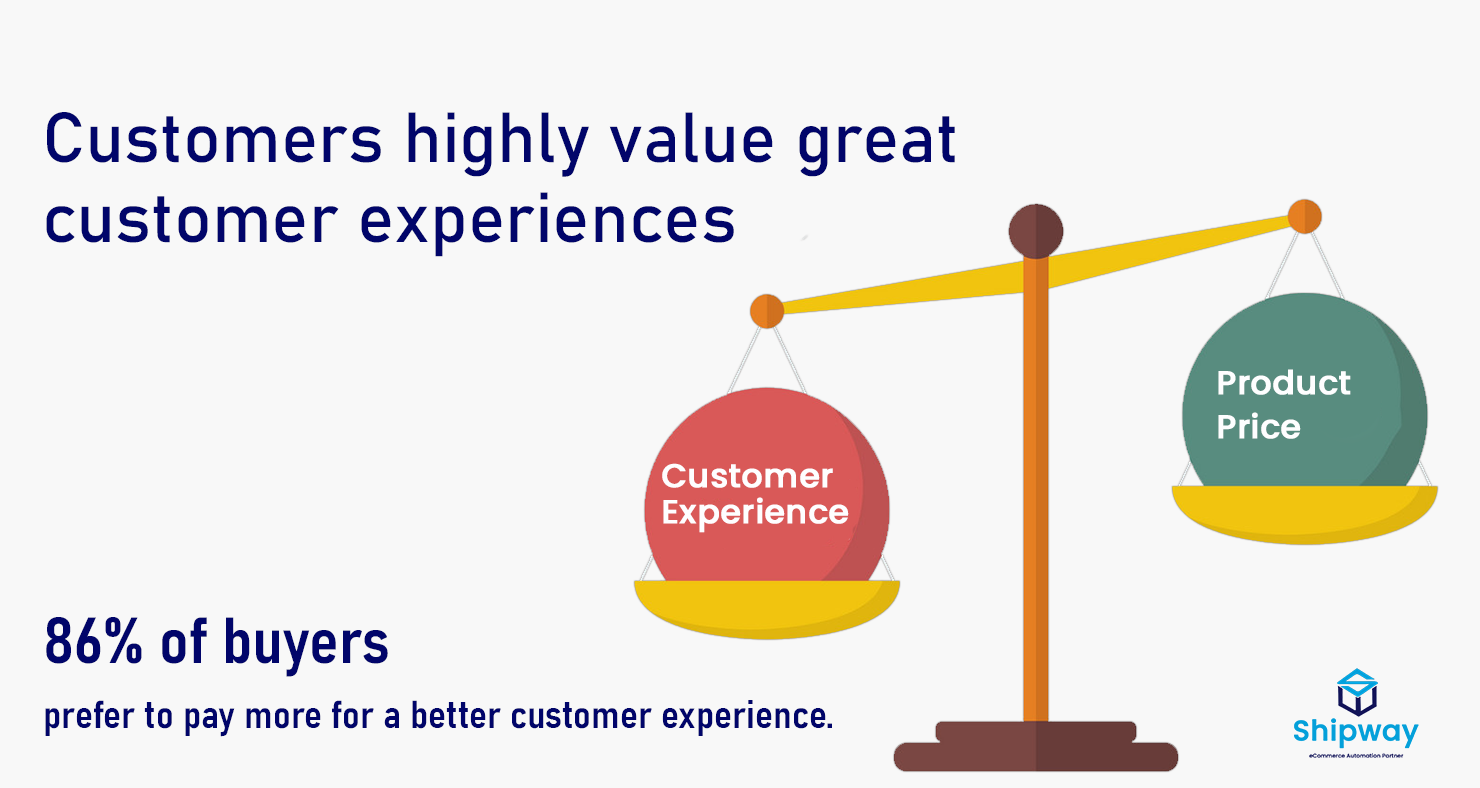 Post-purchase communication has become a part of the purchase and sales cycle today.
Customer satisfaction is the priority of every seller to gain customers' confidence, trust, and loyalty towards the brand.
So, it is ideal to communicate with your customers even after the purchase is made to keep them engaged and build a long-lasting relationship. It is very good for your brand reputation.
Playing lots and lots of ads also work well. If people notice you on almost every social media platform, they tend to buy the product from you.
You somewhere stay in their mind, whenever they think to purchase some particular product, they'll recall you. Post-purchase communication allows you to stay in people's minds.
Psychological or emotional connection with the customer can hold them for longer and forever.
Customers which approach or make a purchase with you, an emotional connection will be with your regular customers. As they already believe in you with a positive sentiment. They already trust you.
Now it's your responsibility to treat them well so that they make a repeat purchase with you.
Validation of the Purchase
Growing a relationship with customers is a tricky thing.
A relationship always works from both sides. If people purchase from you, what will you give them in return? You need to cultivate your relationship by giving loyalty programs, special offers, and discounts.
Increase Customer Engagement
Notifications for the restocking of an item, order delivery, offers, and discounts, personalized experience for customers increase customer engagement.
Building customer relationships is great to enhance your brand image. You should communicate well and communicate often.
Takeaways
Customer retention is the biggest game-changer in any business. It can either push or pull your business.
Post-purchase communication makes a bond special between you and your customer. It helps customers to always remember you from your warm gesture and token of care through notifications, emails, etc.
Communication or customer interaction is a healthy routine to gain new and repeat purchases from existing customers.
Making a hard effort with the customer support team to communicate well with the customers definitely pays off. It will increase your brand reputation and so will your customer retention eventually.
Your efforts are necessary to communicate efficiently with your customers to gain their trust and loyalty.