Come Indian festivals and one can witness the country adorn the drapes of festive fervor and jewels of luminescence among delicacies galore. India— the land of festivals is home to countless festivals originating from different parts of the country.
Festive times not only impact the socio-cultural environment but also impact the economy at large. Confederation of Indian Industry (CII) states that all over the world, consumer sentiment and religious beliefs, often underlying festivals, play an important role in the economic activities of buying and selling of goods and services.
The key festive period in the country starts from the month of September with Navratri and Dussehra, followed by Eid, Diwali, and Christmas, until December. Sales of textiles, automobiles, consumer durables, electronic goods, jewelry, and real estate observe an upsurge during this period.
The scale of business transacted during this time can be comprehended by the massive discounts and marketed sales by large e-commerce players during this time. While the number of orders and sales increase, high return-to-origin (RTOs) become a major challenge to deal with the festive upsurge. "RTOs tend to increase up to 40% during the festive season of October, November, and December," said, Vijay Sandilya, Product Marketing Manager – Razorpay Thirdwatch in an AMA session on how e-commerce D2C brands can increase profitability. RTOs can be extremely challenging for the business viability especially for the D2C brands, operating in an ecosystem without their white-labeled supply chain networks.
Breaking The Clutter
Wider markets, a better range of products, and an almost impeccable supply chain network allowing competitive delivery timelines, then what gives D2C brands an advantage over large scale e-commerce firms?
Vikas Garg, co-founder Shipway believes to have found the answer in three key points that make D2C brands a more preferred choice by the customer today. "Authenticity of products, better pricing, and availability of the latest collection is driving the growth of D2C brands in India," said Garg at the AMA. A major roadblock for brands to build their digital presence is the lack of technical know-how and high investment for the same. Combatting these challenges are market players such as Shopify that have eased owning an e-commerce marketplace at extremely competitive prices.

Addressing The Elephant In The Room
However, a website and brand social media presence is the foundation for any D2C brand that tests waters on stricter parameters. Sandilya of Razorpay Thirdwatch believes that an RTO has a higher implication that businesses often tend to overlook. 

But, are RTOs avoidable is the big question. Garg of Shipway expressed how this is possible with the use of specific platforms that offer management and operating solutions for the D2C brands. He said, "Shipway offers integration for Shopify and other such e-commerce platforms to push back shipment statuses to customers in real-time, mark orders as 'paid' when opted for COD, allows integration with tags for specific orders and more."
Personalization creates customer benefits such as convenience, efficiency, and individualization, increases intentions of purchase from companies who adopt this practice. Having a branded and customized tracking page rather than that of the courier service does exactly that and reduces scope for customers with high genuine intent to return orders.
Not Taking The PPC Route?
The average Adwords click through rate is 1.91%, meaning that only about two clicks occur for every one hundred ad impressions. Industry veterans believe that the most important way to improve CTR through the pay-per-click or paid campaign module is by finding the formula of keywords, ads and user experience that work for individual business. However, not all brands or businesses want to opt for this route of marketing.
 "90% merchants use push notifications as their channel," said Adam Walker, Head Product Marketing Pushowl. 

Doron Feder, Partnerships Lead Loox shed light on authenticity as a great way for driving quality traffic to websites in ways other than the PPC model.
As an exclusive integration for Shopify, Loox helps business owners send review requests to customers at the right time. Feder added, "If the review request is sent prior to the arrival of the package, the customer may tend to get angry and if sent too late, higher the chances of not getting a response. Hence, it is critical that a review form is sent at the right time."

 Much And When To Inform The Customer?
In the race to win the attention of a customer, brands compete with tailored and targeted content across various platforms. However, giving the customer a sense of personalization till they make the purchase is only half the battle won. People are curious by nature and they like to know what goes on, especially if they expect to part with their money in exchange for your services. Keeping your customers informed about their order or company updates will make sure that the customers don't feel left out.
With D2C brands who are starting out or are yet to establish a supply chain network as strong as that of the big e-commerce players, chances of delay in orders or other technical issues tend to arise. Keeping the customer uninformed and hoping they don't notice does more harm than good. On the contrary, by keeping your customers informed about a problem you are proactively showing them that you are aware of your problem your the problem, you aren't afraid to hold your hand up to it and you are doing something about it. For most customers this is enough to let them give you the benefit of the doubt and they will give you the time (a limited amount at least) you need to fix the issue.
Keeping customers well informed about what is going on in your services and products are key to a healthy relationship with your customers, increase customer retention and a rise in business turnover.
But, what is the right amount of information one should send the customer?
Walker of PushOwl stated that for a brand not dependent on a marketplace, once or twice a week is a good timeframe to start with. "This can later be tweaked depending on the subscription rate and open rate of emails sent," he added. He also believes that as a business one must use the mix of one message, different platforms rather than the vice-versa.
The COD And Authenticity Dilemma
 "About 70% of the orders placed in India are Cash-on-Delivery (COD)," said Sandilya of Razorpay Thirdwatch. This poses an issue for sellers because of high RTOs associated with COD orders and the gap it creates for generating working capital. He opines that offering discounts on online payment can help convert a COD customer. But assessing if this is due to intent or habit can help gauge better insights.
 Sandilya added that despite being a country that is heavily inclined towards holding their cash and opt for COD, about 99% orders placed online are free from intent of fraud. Razorpay Thirdwatch helps D2C brands assess the possibility of a fraud order by analyzing authenticity of parameters such as physical address, mobile number and email ID.
Comprehensive Solutions
Festive season can be challenging for D2C brands. With averse customer sentiment for offline shopping avenues due to the pandemic, e-commerce players now has a wide potential customer base. Shopify helps people build their online selling presence and with integrations such as Shipway, Razorpay Thirdwatch, Pushowl and Loox, becomes a powerful platform for D2C brands.
Razorpay Thirdwatch uses machine learning to identify whether an address is complete and genuine. It flags that order to the brand in case of any discrepancy. Currently tied up with over 700 brands, Razorpay Thirdwatch helps assess user behavior from its database and suggests if an order has high chances of turning into an RTO.
Shipway is a tool that helps D2C brands in delivering the best post purchase experience by integrating with 600+ courier companies across the globe and by allowing brands to show a customized and branded shipment tracking interface to the customer instead of that of the courier service, taking care about the return process where the buyer can place a return from the brand's website without even contacting the customer support . It also sends shipment updates and collects the purchase review from the customer along with RTO management and back office automation.
PushOwl as an integration sends push notifications to D2C brand customers. Web push notifications helps brands reach shoppers where they're the most active – on their device screens without the hassle of having a mobile application.
Loox helps D2C brand owners generate more reviews with photos and display them in review galleries, boosting credibility, increasing conversions & sales with strong social proof. It helps business owners offer discounts in exchange for reviews and encourages satisfied customers to buy again.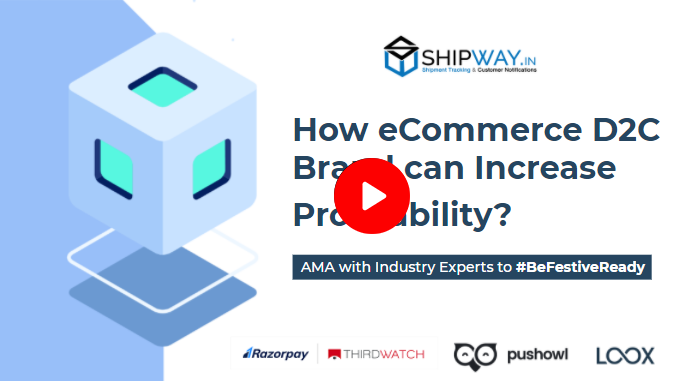 (Watch the complete AMA Session here)
Deliver the best post purchase experience this festive season!
Get your Free trial with 500 shipments for 7 days